Oyé, oyé, messieurs ! Votre femme est toujours aussi belle à vos yeux qu'au premier jour ? Votre compagne vous fait chavirer le coeur ou votre amante embellit vos instants volés ? Pour sublimer votre partenaire, je vous propose... de peindre tout simplement celle qui illumine votre vie. Sous mes pinceaux, son image prendra des couleurs et des saveurs inédites. Avec quelques photos judicieusement choisies, elle prendra forme sur la toile, avec vos teintes préférées que nous aurons pris soin de voir ensemble. Chaque tableau est livré avec son certificat d'authenticité.
Si l'envie vous dit, n'hésitez pas à franchir le pas d'une commande spéciale pour Elle. Pour un Noël unique, une Saint-Valentin différente ou simplement comme ça, un cadeau pour gâter celle que vous aimez... Messieurs, c'est le moment pour photographier Madame sous toutes les coutures !
Madame, vous n'avez point de Monsieur Chéri dans votre vie ?
Ne désespérez pas, votre portrait peut tout aussi devenir une toile haute en couleurs ! Un petit mail et dans vos chaussons de Noël, une toile originale rien que pour vous...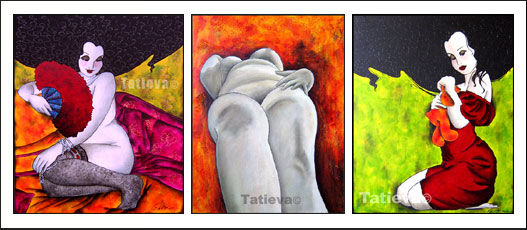 Que vous soyez fine comme une sylphide ou voluptueuse comme une Vénus, mes pinceaux seront ravis de vous peindre. Osez franchir le pas.


Je travaille en extrême dilué et en maint couches, parfois 12 ou 15, aussi je dépose mes couleurs sur plusieurs tableaux en même temps. Pendant que l'un sèche, je joue déjà sur un autre, je fourmille d'idées et d'envies. Cela me permet d'offrir à votre regard des demoiselles souvent... et de peindre toujours ! Je passe 3 à 6 semaines sur une toile, parfois plus. Aussi, c'est à prêvoir dans la prise de commande... A trés vite !
Oyé, oyé, sirs ! Your wife is always so beautiful for you as in the first day ? Your partner makes you capsize the heart or your mistress embellishes your stolen moments ? To sublimate your partner, I suggest you painting simply the one who illuminates your life.
Under my brushes, its image will take colors and new flavours. With some sensibly chosen photos, she will take shape on the painting, with your favorite tints that we shall have taken care of seeing together. Every picture is delivered with its certificate of authenticity.
If the envy says to you, do not hesitate to cross the step of a special command for Her. For unique Christmas, different St Valentine's Day or simply like that, present to spoil the one that you love... Sirs, it is the moment to photograph Madam from every angle !
Madam, you do not have a Monsieur Chéri in your life ?
Do not discourage, your portrait can also become a colourful painting ! A small e-mail and in your slippers of Christmas, an original painting only for you...

Whom you are fine as a sylph or sensual as a Venus, very slightly dressed or more stripped nude, my brushes will be delighted to paint you. Dare to cross the step.
I work in diluted extreme and in many layers, sometimes 12 or 15, also I put down my colors on several paintings at the same time. While the one dries, I already play on the other one. It allows me to offer to your glance of the young ladies often and to paint always! I spend 3 in 6 weeks on a painting, sometimes more. So, it is to think in the taking of command... See you soon.