All paintings are presented in photo albums.
Every work is unique. They are accompanied with their certificate of authenticity.
The buyers who crossed the step of an acquisition of works of art via internet are as well in France as abroad : Singapore, Miami, Laguna Beach, Houston, Paris, Dubai, London...

***
To order a work, send to me an e-mail by indicating the title of or works which you wish to acquire. I will contact you assure you the availability of the fabrics as well as the transport charges, according to the weight and the destination of the parcel. As of confirmation of your order, by mall.
Do not hesitate to contact me to know more about it for the acquisition of the works.
Credit transfer, international transfer or PAYPAL.
As of reception of your réglement, you will be informed by e-mail and the fabrics, with certificate of authenticity, will be dispatched to you by the Post office or transport UPS as soon as possible, according to the weight and of the format of the parcel. The carriage costs are the responsibility of the purchaser.
According to the law applied, the artist remains exclusive owner of the right to the image.
I practise the usual prices of an artist in the circuit of the art for several years and in galleries. Every painting is sold with its dated and signed certificate of authenticity.
Contact :
tatieve@voila.fr
Voir la rubrique "tableaux/prices" pour un aperçu des toiles disponibles à la vente.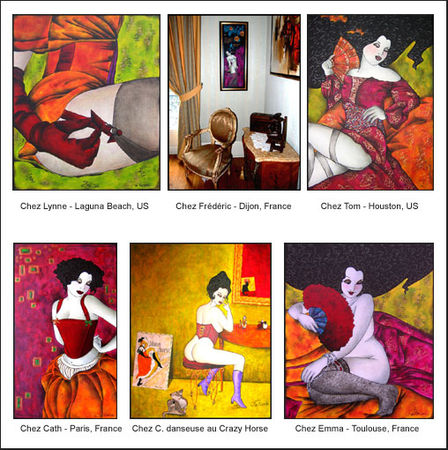 Quelques acquéreurs à travers le monde...